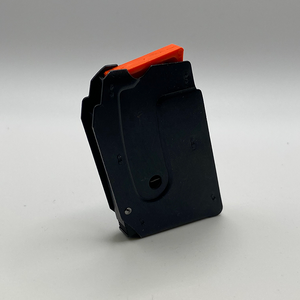 Every Model That Fits Our Marlin Magazines
Marlin Firearms, owned by Sturm, Ruger, & Co., are known for their reliability and quality. The brand has produced a strong, diverse line of hunting rifles since its creation in the late 1800s. These classic American rifles have bolt-action, autoloading, and lever-action options, so everyone can find a weapon they're happy to use while hunting. It is not difficult to see why Marlin rifles show up on many lists of recommended weapons to purchase for hunting.
Unfortunately, Marlin magazines are not easy to locate. These high-quality weapons work best with magazines manufactured specifically for them, so choosing more accessible, lower-quality magazines will decrease your gun's efficacy and negatively affect your shooting. American Rifle Magazines saw this need and stepped up to create hunting rifle magazines for the serious hunters and shooters of the world.
Magazine Supply
We are proud to offer original equipment manufacturer (OEM) quality Marlin magazines. The magazines we supply are listed below, along with the Marlin rifles each magazine is compatible with.
7 Round 22WMR Black Oxide Rifle Magazine
Marlin model: 922M
7 Round 22LR 71901
Marlin models: 880SQ, 25NC, 70, 70HC, 70P, 793, 795, 880, 70PSS, 880SS,917M2, 925, 25N, 980V, 989M-2, 995SS, 7000, 70L, XT-22 22 LR, Coast to Coast Models 42 and 440, 989, 995, 7000T, WestPoint Model 701, Big 5 Model 700, and Montgomery Ward Model 45.
7 Round 22LR 71900 Rifle Magazine
Marlin models: 25N, 925, 25NC, 980S, 925C, 880SQ, 980V, 70, 70P (Papoose), 70HC, 880, 917M2, 995, 989, 989M-2, Glenfield models 989G and 70, coast to coast models 42 and 440, Westpoint model 701, big 5 model 700, Models 7000 & 7000T, Montgomery ward model 45 & XT-22 LR
10 Round 22LR Rifle Magazine, Black Oxide or Nickel
Marlin models: 25N, 25NC, 70, 70HC, 70L, 70P, 70PSS, 793, 795, 880, 880SQ, 880SS,917M2, 925, 980V, 989, 989M-2, 995, 995SS, 7000, 7000T, XT-22 22 LR, Big 5 Model 700, Coast to Coast Models 42 and 440, WestPoint Model 701, and Montgomery Ward Model 45
4 Round 22WMR/17HMN Rifle Magazine, 4 Round 22WMR/17HMN Rifle Nickel Magazine, 7 Round 22WMR/17HMR Black Oxide Magazine, and 7 Round 22WMR/17HMR
Marlin models: 882SS, 982S, 882, 982, 25MN, 925M, 782, 25M, 980, 17V, 917V, 17VS, 917VS, XT-22 WMR, and XT-17 HMR
780/25 22LR Bolt Action 71903 Rifle Magazine
Models: 80C, 80DL, 80E, Glenfield models 20, 25, and 80G, JC Higgins models 42 and 42DL, Foremost model 20, and Revelation model 105.
Our Marlin 22 rifle magazines will help keep you safe while firing, as American Rifle Magazines is an OEM for Marlin magazines. It is important to purchase from an OEM because we use quality materials, compared to cheap and questionable materials frequently found in aftermarket manufacturers. Whether you are looking for Marlin 22 magnum magazines, Marlin rifle replacement magazines, or Marlin 22 magazine high-capacity rifles, we have you covered.
Get in Touch With American Rifle Magazines
To meet your needs as a customer, we offer multiple American-made hunting rifle magazines to fit Marlin weapons. Whether you are purchasing a magazine for the first time or replacing worn-out magazines, we are likely to have a magazine that will meet your needs. 
Check out our magazine options and enhance your shooting experience by finding a quality magazine to fit your Marlin hunting rifle. Contact our professionals today with any questions, and we'd be happy to assist you!
---