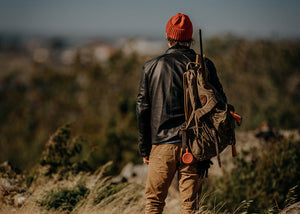 Are Marlin Rifles Making a Comeback?
Marlin firearms, one of the original American hunting rifles, are finally making a long-awaited market comeback. Since Ruger acquired Remington Outdoor, there's been a great deal of speculation and excitement surrounding the potential resurgence of these famous, American-made rifles and American-made hunting magazines. Now, these classic rifles are being produced once again, so we're here to share the story and look at what Marlin has created recently. 
What Happened to Marlin Rifles? 
For a time, Remington Outdoor was struggling financially before proceeding to file bankruptcy in 2020. Shortly after that, the company was purchased by Ruger. This alone presented a glimmer of hope for the legendary brand, but for quite some time, Marlin's comeback seemed mired in setback after setback. By February of 2021, Ruger was still in the process of gathering its assets and assessing its stockpile of Marlin designs. According to Ruger's president and CEO, Christopher J. Killoy in an interview on the matter, Ruger intended to begin manufacturing Marlin rifles and many other beloved standards.  
This was exciting news for all interested in seeing the revival of a well-loved and classic firearm brand, even if no concrete plans were being made beyond Killoy's interest in producing these rifles. The company's subsequent press release stated that its goal was to start manufacturing some centerfire lever-action rifles, such as the 1894, 1895, and 336 models, and then move onto the .22 rimfire model 60 semi-autos – another popular line. Speculators and rifle enthusiasts buzzed about their hopes to see new Marlin rifles, hunting rifles, rifle magazines, and hunting rifle magazines make their return to stores and collections alike. 
Production Begins
In December, Ruger made another announcement regarding Marlin firearms, revealing their first new Marlin model. The 1895 SBL is chambered in .45-70 govt. and is a lever-action rifle, complete with a gray-laminate stock, 19-inch stainless steel barrel, and a 6+1 Marlin magazine capacity. Currently, the rifle is priced at $1,399.00 on the company's website. That's right – Marlin Firearms is officially back in production, starting with a new version of the 1895 classic lever-action hunting rifle. And Marlin enthusiasts think it's better than ever. 
So, what about the other classic Marlin models, such as the 336 and the .22? Will we see another Marlin .22 with a Marlin 22 magazine at high capacity? It seems as though fans of Marlin favorites won't have to worry. Killoy announced that Ruger plans to release more updated versions of older models throughout 2022, continuing with their plans to address 1895 first, followed by 1894 and 336. 
Your Source for Marlin Magazines
It may not be long before we see more excellent Marlin hunting rifles and Marlin high-capacity magazines for hunting rifles shipped nationwide. Suppose you're as excited as we are to get more news about Marlin Firearms and the Ruger manufacturing process or check out the new Marlin lever-action hunting rifles and magazines as soon as they're in stock. In that case, American Rifle Magazine has you covered. Browse our inventory of Marlin 22 magnum extended magazines, high capacity magazines, and much more, and contact us for more information. 
---