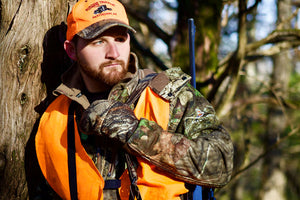 The Affordable Hunting Rifle Magazine You Need
For many hunters and recreational or sport-shooters, affordability and quality craftsmanship are key. From rifle to bullets to magazine, your shooting equipment must perform with excellence, especially when it comes to safety. At American Rifle Magazines, we understand our customers' need for high-functioning and affordable rifle accessories – which is why our magazines outperform the competition.
If you aren't familiar with Remington Arms Company, the brand is famously known for its exceptional firearms and ammunition manufacturing. American Rifle Magazines' short action magazine is specially designed for the Remington Model 783 rifle. Compared to competing models, our short action magazine exceeds in both performance and design.
You may be wondering why this magazine is a popular choice amongst hunters and sport-shooters, alike. Well, for starters, it has a holding capacity of four rounds and is an economical choice, priced at the affordable amount of $26.95. This particular magazine is also a perfect fit for the Model 738 rifle as it is manufactured by the same factory as the Remington firearm magazines. It is designed to hold .308 caliber Winchester rounds, .243 caliber Winchester rounds, and 6.5 caliber Creedmore rounds, giving you versatility no matter which rifle caliber you own.
Now that you have a better understanding of the design and function of our short action magazine, here is a bit more information on the benefits of adding an affordably priced magazine to your hunting rifle.
Why Add a Magazine to Your Rifle?
Magazines are far from an unnecessary hunting rifle accessory. In fact, they actually provide rifles with additional ammunition storage and are easily attachable to your firearm's receiver. Magazines are a convenient attachment for anyone who wants to maximize their firearm's capabilities.
The major benefit of having additional storage for your firearm is that this gives you the convenience of having more ammunition readily available for your recreational or sport shooting. If you're hunting for wild game, for example, having additional ammunition can be valuable in a setting where more than one shot may be used. It also takes away the necessity to reload your firearm after every single shot. This gives you the ability to make several shots in quick succession.
Put simply, magazines are a more convenient and accessible way to carry ammunition, making it easier and quicker for hunters to reload their weapons. In actuality, this accessory can make it easier or much more likely to hit your target in the event you need to reload quickly.
The Remington Model 783 Rifle & Short Action Magazines
Our Remington Model 783 308 Short Action Magazines are manufactured specifically for short action rifles. If you're an experienced hunter or sport-shooter, you already understand the benefits of short action rifles. But for those who are new to shooting, here's a quick breakdown of some of the key differences between short action and long action rifles.
The Benefits of Short Action Rifles and Short Action Magazines
Short action rifles have a much smaller chamber length in comparison to long action rifles. For short action rifles, the chamber length is typically less than 2.8". Another major difference between a long action chamber versus a short action chamber is the length of time it takes to cycle the action of the firearm.
When it comes to using a short action rifle, the loading time is much quicker, and therefore more efficient when making quick shots. This can be very beneficial if your shooting activities require you to reload quickly.
Short action rifles also tend to be more accurate when shooting from farther distances. This is because short action rifles have less flex and exhibit more stiffness.
Why You Should Choose American Rifle Magazines
If you are an owner of a Remington Model 783 short action rifle, our short action magazine is a great added accessory! This magazine shortens the time it takes to reload, increasing your chances of hitting every intended target speedily.
While there are a variety of different firearm accessories available that you can add to better your gun's abilities, the American Rifle Magazines' short action magazine is a great tool for increasing your firearm's overall productivity. American Rifle Magazines prides itself in the quality and fine craftsmanship of our products. Our rifle accessories are sure to be a great addition to any firearm collection. With a broad range of selections to choose from, there is sure to be a product that's perfect for your recreational needs. The Remington Model 783 .308 is a great option for maximizing the Remington 783 S/A rifle's abilities.
---