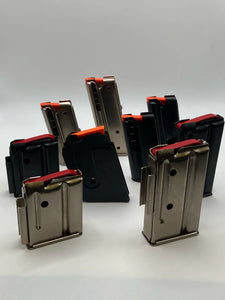 How Our 10-Shot .22 Caliber Magazines Enhance Your 7-Shot .580 Caliber Rifles
Did you know there's an untapped potential in the world of rifles that many may not be aware of? At American Rifle Magazines, we're dedicated to ensuring you get the most out of your firearms. Have you ever questioned whether your 7-shot 580 series rifle could offer you more versatility? The answer lies in a remarkable compatibility feature involving our Marlin 10 round 590 magazines, offered in Nickel Plated and Black Oxide finishes. This blog aims to unveil the facts and benefits surrounding this compatibility, offering you a clear path to enhancing your shooting experience.
Understanding Our 10 Shot .22 Caliber Magazines
Let's begin by acquainting ourselves with our star player, the Marlin 590 10-Round Black Oxide Rifle magazine. Crafted in the USA, this magazine is a testament to American craftsmanship. It's tailored for hunters who demand high capacity and doesn't disappoint. Rugged, dependable, and designed for performance, it's a magazine that truly stands out.
But what sets it apart even more is its compatibility with 7-shot 580 series rifles. This magazine isn't just about high capacity; it's about versatility. When paired with your 7-shot rifle, it opens up a world of possibilities. Imagine having the Marlin 590 10-round magazine's reliability with your trusted rifle's added capacity. It's a game-changer for those who demand the best from their firearms.
The 7 Shot 580 Series Magazines
Before we dive into the exciting part, let's talk about the 7-shot 580 magazines. The 7-shot 580  Magazines are trusted by many for their consistent performance in various shooting scenarios. Their robust build and dependable feeding have made them a preferred choice for seasoned hunters.
Many have assumed these magazines are exclusively designed for 7-shot 580 series rifles. This misconception might have inadvertently kept enthusiasts from exploring the full range of possibilities their firearms offer.
The Benefits for Rifle Enthusiasts
Here's the revelation: our 10-shot .22 caliber magazines are fully compatible with your 7-shot 580 series rifles. It's a compatibility that may have flown under your radar, and you're not alone in that. It's somewhat of a hidden gem within the firearm community.
So, what's the significance? First and foremost, it grants you increased magazine capacity. That translates to more rounds readily available without the need for frequent reloads. It's a game-changer for hunters and shooters who value continuous focus on their target.
Let's explore more of what this newfound compatibility brings to the table.
Increased Magazine Capacity: Picture having up to ten rounds at your disposal. That's more time concentrating on your target and less time dealing with magazine changes.
Cost Savings: Instead of investing in entirely new magazines, you can maximize the utility of your existing ones. It's a prudent choice that saves you money.
Don't just take our word for it; countless rifle owners have embraced this compatibility and are reaping the rewards. It's a win-win situation.
Making Informed Choices
Now that you're in the loop, you might be wondering how to acquire these compatible magazines. It's essential to ensure that you select the right fit for your rifle. Making informed choices ensures that you optimize your firearms to their fullest potential.
The compatibility of our hunting rifle magazines is a game changer. Whether you're an experienced hunter or a regular at the shooting range, this compatibility can elevate your experience in the field or down range.
Ready to explore this compatibility for yourself? Discover the Marlin 590 10-Round Nickel Plated or Black Oxide version magazines, and let's harness the full potential of our firearms. 
---