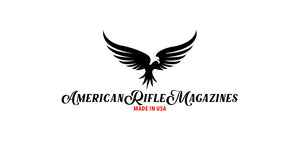 A Letter to Our Customers from American Rifle Magazines
Hello Friends:
I would first like to thank you for your business and support for AmericanRifleMagazines.com
We have been working very hard to make sure orders are shipped out in a timely manner, while maintaining the highest quality standards on our magazines.
Unfortunately, there are several considerations that are outside of our control. The current price of Steel, rising labor costs and across the board increases for all outside services (i.e., Black Oxide and Nickel Plating). To give you an idea, the cost of Cold Rolled Steel has virtually tripled from a year ago and all added value services have gone up and lead times have lengthened considerably.
We were fortunate in that we had a fair amount of raw material and WIP (work in process) that was held at old pricing levels. However, now we are needing to purchase more steel, and more components to build and supply our magazines to you, our valued customer.
I wanted to give you a "heads up" with the substantial cost increases we have been absorbing over the last couple of months and to inform you personally, we will be implementing a price increase.
Given your support of our website and Company, we will be offering you a one-time use discount code of thankyou10 which will give you a 10% discount off your next order. This code cannot be combined with other discounts and will be valid for 60 days after the price increase goes into effect. I anticipate the price increase to go into effect within a week or two.
We are a family-owned company. All of our steel and components are proudly sourced and will continue to be sourced from the USA. Once again Thank you all for your support and business. We will continue to strive to meet your high expectations and always deliver you high quality magazines.
Sincerely,
Rob
President – American Rifle Magazines
---